In 2020, Apple TV+'s hit series Physical was in production of its first season on Quixote's North Valley stages. Shooting on a state-of-the-art Quixote stage is a no-brainer, but any Location manager knows that finding the perfect EXT. MALL – DAY requires a lot of extra scouting and exploring. In its highly rated second season, Location Manager Justin Hill won the COLA (California On Location Award) for creating the perfect backdrop of 1980's San Diego. Award-winning Location Managers need all-inclusive Location Services – and Quixote has a plan!
The COLA Awards
The COLA ceremony honors the hundreds of Location Professionals, Public Workers and Teamsters who work tirelessly behind the scenes to bring fictional worlds into reality. The Quixote sales team attended the COLA awards ceremony in December 2022, eager to congratulate the Location Managers and their teams who we support every day.
Location Services Program
This year, we are debuting our Locations Services initiative – specifically tailored to the needs of Location Managers and their teams. Our Production Supplies and Vehicles departments have come together to build a unique Quixote offering that delivers white glove treatment directly on set by skilled Quixote site attendants. They will set up basecamp before your crew arrives and wrap it all up when you've finally called "CUT!" on that long-awaited martini shot.
If there are any hiccups along the way, no sweat! We offer 24/7 customer service. There are no restricting parameters on delivery or pickup times. If it looks like you need some extra gear – we are way ahead of you! We carry excess inventory in our trucks, just in case. We also have rental agents at the ready to make sure you have everything you need for a smooth shoot day (or middle of the night). Even if we don't carry it, we'll get it for you. That's how much we mean business. One call, and it's done!
Here's a look at what we can bring to the table:
Dining, Changing, Restroom and Shower Trailers
Production Supplies
Basecamp Lighting
Generators
Hand Washing Sinks
Unparalleled Customer Service
We're Here for Your Team
If your team is showing up at the crack of dawn, we will be there at the crack of crack of dawn building out basecamp per the Location Manager's blueprint. When the shoot is wrapped, so are you! We will come and break it all down, so you don't have to lift a finger. You can focus on what really matters – How are we going to make sure that the car explodes on cue AND in focus? And that we all break for lunch by 2?
We developed this program with YOU in mind and are consistently reviewing and updating this service to ensure that we are offering the best in the biz. Currently, Locations Services is a California-exclusive initiative. As the California Film Commission would agree, California's sprawling coastlines, rural and urban landscapes and diverse geography offer nothing short of the most top-tier locations in the nation. I'm sure we'll have our work cut out for us!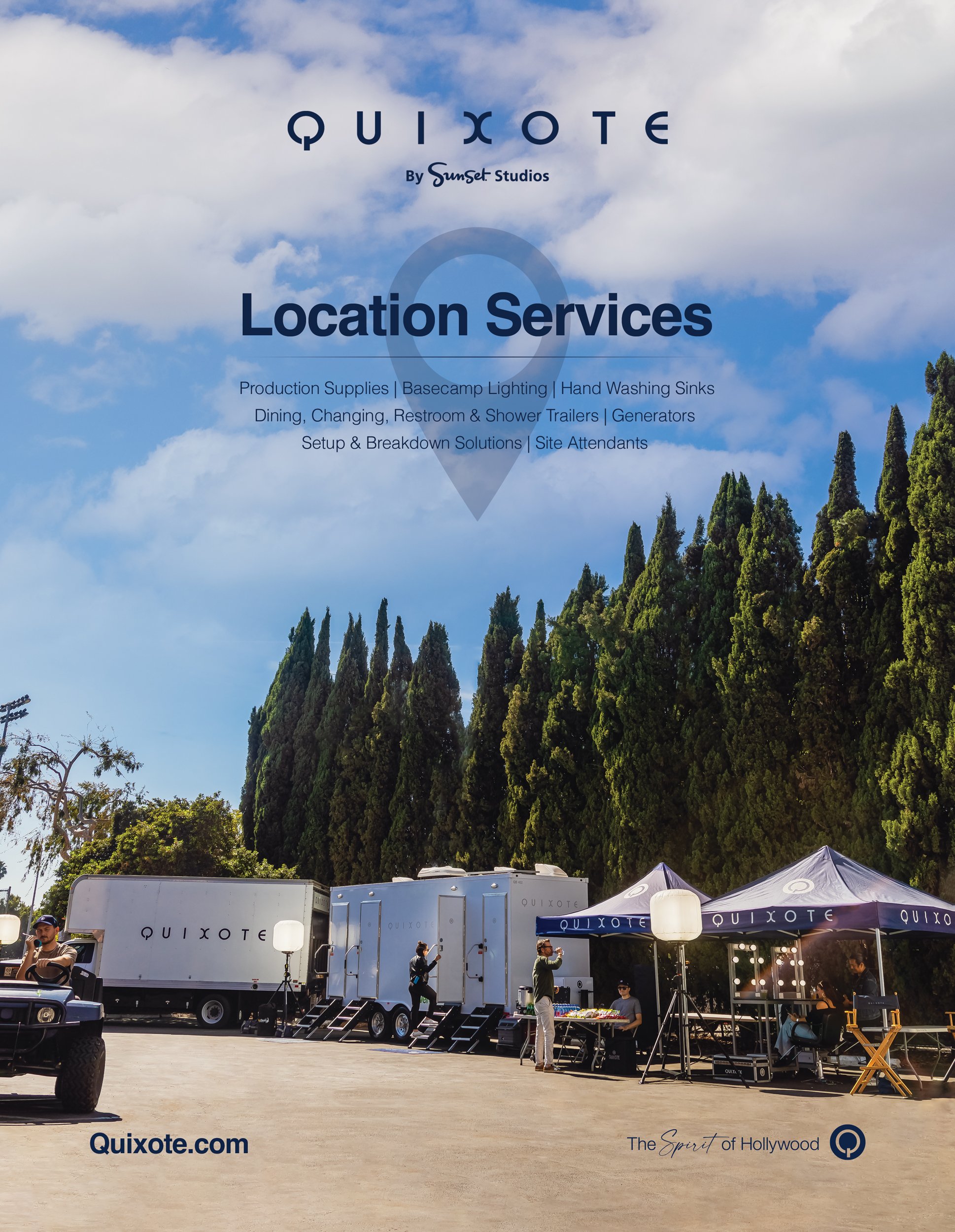 Contact Quixote
Contact our Location Services team today for more details on package pricing and exclusive incentives tailored for your production and budget needs.