Atlanta
Production Supplies
---
Renting Production Supplies is as easy as 1, 2… (that's it!)
2
Once you have confirmed your rental with one of our agents, schedule an appointment to pick up or drop off
or
(770) 672-64351 | ATLPS@Quixote.com
TPT is now part of the Quixote Family

We now offer Production Supplies, Comms, WiFi & Photo Rentals in Atlanta! Now you can get your hands on tents, heaters, director's chairs, ironing boards, walkies, & every other item you need for your production.

Formerly The Production Truck (AKA: TPT), we are thrilled to be a part of the Georgia T.V. and Film Industry. We offer a wide range of products to help you make your production great. We have the supplies you need, whether it's setting up your Production Office, Art Department, Wardrobe, Makeup, Crafty, or beyond. We are here to help!

Formerly The production truck (AKA: TPT), we have a long and rich history in the production and rental space. We have a small company feel with a large company turnaround. We complement our clients' projects with our large inventory and catalog of work. We ensure all of our staff follows health and safety protocols in order to allow for a safe and welcoming environment for all. TPT invites people to get acquainted with our company, history, team, and catalog.

Since the start of our company, we have worked diligently to serve our clients with best-in-class equipment. Our team provides the services on time and on the highest level. We are able to handle all-size projects! Providing clients with better services requires implementing the latest technologies.
TPT history

The year was 1846, the place, a small town in Oregon, appropriately named…Hadleyville. Founded in 1823 by Clarence Hadley and his siblings, this unlikely pioneering hamlet would be the birthplace of a Hollywood institution that would one day be known across the land as The Production Truck.

But before we get too far ahead of ourselves, let's go back to the beginning. It was a cold December day in 1846 when one Jesse William Hadley, son of Clarence and Margaret Hadley, happened upon an idea. You see the winters were cold in Hadleyville and the snows were deep, what every good man needed in Hadleyville was a shovel. With the only shovel in town belonging to the Hadley family, and small towns being what they are, young Jesse had an idea. He concluded that if he were to rent this shovel to the town folk in need, he could turn a nifty profit while helping his neighbors. And thus was born the fair dealing business model that would become a way of life for the Hadleys.

Jesse William Hadley – Entrepreneur

Time would pass and Jesse Hadley would begin to establish quite a reputation in Hadleyville, if the townsfolk were in need, Jesse Hadley was their man. Anything from shovels to pans to wagon wheels, if you needed it Jesse Hadley would find a way to get it for you. But it wasn't 'til the gold rush only a few years down the road that Jesse Hadley would truly make his mark and begin a working relationship that would last 'til this day.
In Jan. of 1848, with the discovery of gold in Sutter's Mill on the American River in Northern California, the world was on the cusp of change, this signaled an opportunity that Jesse Hadley could not pass up. It was time to take his 'unique' skills to where they could be best utilized, it was time for The Production Wagon (as it was then called) to
make its debut. With a keen sense for people's needs young Jesse made his way to Northern California and a friendship no one could have expected.

Hang Quang Tran – Right Hand Man

At the same time on the other side of the world, Hang Quang Tran joined thousands of Asian immigrants on a journey to the new world. Having watched his country fall to defeat in The Opium Wars (1839-1860), Hang looked to the West. With the promise of gold and vast opportunities, Hang was rich with hope. His trials would be vast and the times tough, but it wouldn't be 'til the fateful day that Hang Quang Tran crossed paths with Jesse William Hadley that destiny would be set in motion.

What with Gold fever running rampant throughout California, Jesse's business was growing with leaps and bounds. Miners needed equipment and much like in Hadleyville Jesse was their man. But it was becoming increasingly difficult for Jesse to fill all these orders alone. The Production Wagon was on a roll, but to keep up with growing demand, Jesse would need some help. Enter Hang Quang Tran. As he often would, Mr. Hadley was hustling the area miners in a good game of darts at the local watering hole when a young Asian immigrant would happen along looking for work. Hang and Jesse hit it off immediately and Hang was soon on board as Jesse's right-hand-man. But as the years faded and the Gold Rush waned, The Production Wagon would soon be on the move once again, aiding in one of our countries most turbulent times…the Civil War.

Realizing that war meant money, The Production Wagon saddled up and headed East. Never one to choose sides The Production Wagon would begin a very profitable relationship with both Union and Confederate soldiers that would see the legend of Jesse William Hadley's Production Wagon grow even greater. Helping out in wartime would prove highly profitable for years to come and the developments made during this volatile period would lead to greater inroads for Hadley's Production supply company.

As fate would have it Jesse Hadley, and generations of Hadleys to come, would inevitably find themselves smack-dab in the path of history. Although on the fringes, and rarely mentioned, their contributions could be considered instrumental in some of America's greatest triumphs and missteps. Hadley's burgeoning company, however unwittingly, was about to become a curious footnote in the rise of this great nation.

One such incident towards the end of the Civil War would find The Production Wagon, unknowingly, contributing to one of the most famous, and infamous, events in the war…"Sherman's March to the Sea." General William Tecumseh Sherman, in an effort to cripple the Confederate forces, carried out a "Scorched Earth" campaign decimating the Southern landscape. It's a little known fact, much overlooked in history, that the supplier of the matches, used to start those fires, was one enterprising company known as…The Production Wagon. Having just made a delivery of Tobacco to Southern forces (Hadley never chose sides, always preferring to remain neutral), and having overestimated the need for matches, Jesse Hadley found himself with one large clerical error. What was he to do with thousands of matches and no prospective buyer. Meanwhile, at the same time having left his supply lines behind to begin his March, General Sherman had a plan…let's burn this sucker down. Sherman's only problem…no matches. Well, as destiny would have it, on the way out of Atlanta , The Production Wagon would run into none other than General William Tecumseh Sherman. Assessing each others needs, and having no idea what Sherman would want with thousands of matches, a deal was struck…so to speak. Hadley was able to make a handy profit on a temporary oversight and Sherman was able to burn down the South. To this day the Hadley family no longer ventures South of the Mason-Dixon line.

Now, with the Civil War coming to a close, having made a tidy profit, and inadvertently burning a few bridges along the way, it was time for Jesse William Hadley, Hang Quang Tran, and The Production Wagon (or TPW as they liked to call it) to turn their sites elsewhere. With the Industrial Revolution now in full swing, production was the name of the game, and The Production Wagon was, once again, rolling. Let's take a brief look at some of the ground-breaking inventions The Production Wagon helped bring to life…If you've been keeping score you've probably noticed that The Production Wagon was at the crossroads of a new chapter.

It's now 1913, Jesse William Hadley and Hang Quang Tran have helped The Production Wagon and America reach, until now, unheard of heights. The First Industrial Revolution has come to a close, and without the tireless work of a small footnote in history known as The Production Wagon, who knows where The United States might be.

The Early Logo – Used before modern age of the automobile

The year 1914 would mark a time of great change for The Production Wagon. With the coming of the automobile, the wagon would soon be a thing of the past. Enter the forward thinking son of Jesse William Hadley ( that's right, somewhere in there he found time to fit in a family, way to go Jesse), Theodore William Hadley. Named after Jesse's close friend President Theodore Roosevelt, Teddy Hadley was a chip off the old block. A man with an eye for the needs of the common man. Having deduced that the wagon was no longer a viable means of prolonging his father's business, Teddy looked toward the as yet untested truck, as a means of getting things done. This as we all know would turn out to be a wise decision. Theodore along with his right hand man Ming Quang Tran ( that's right Hang had a son too), would begin a new chapter in the Hadley Legacy…The Production Truck was born.

To Be Continued…
Downloads
---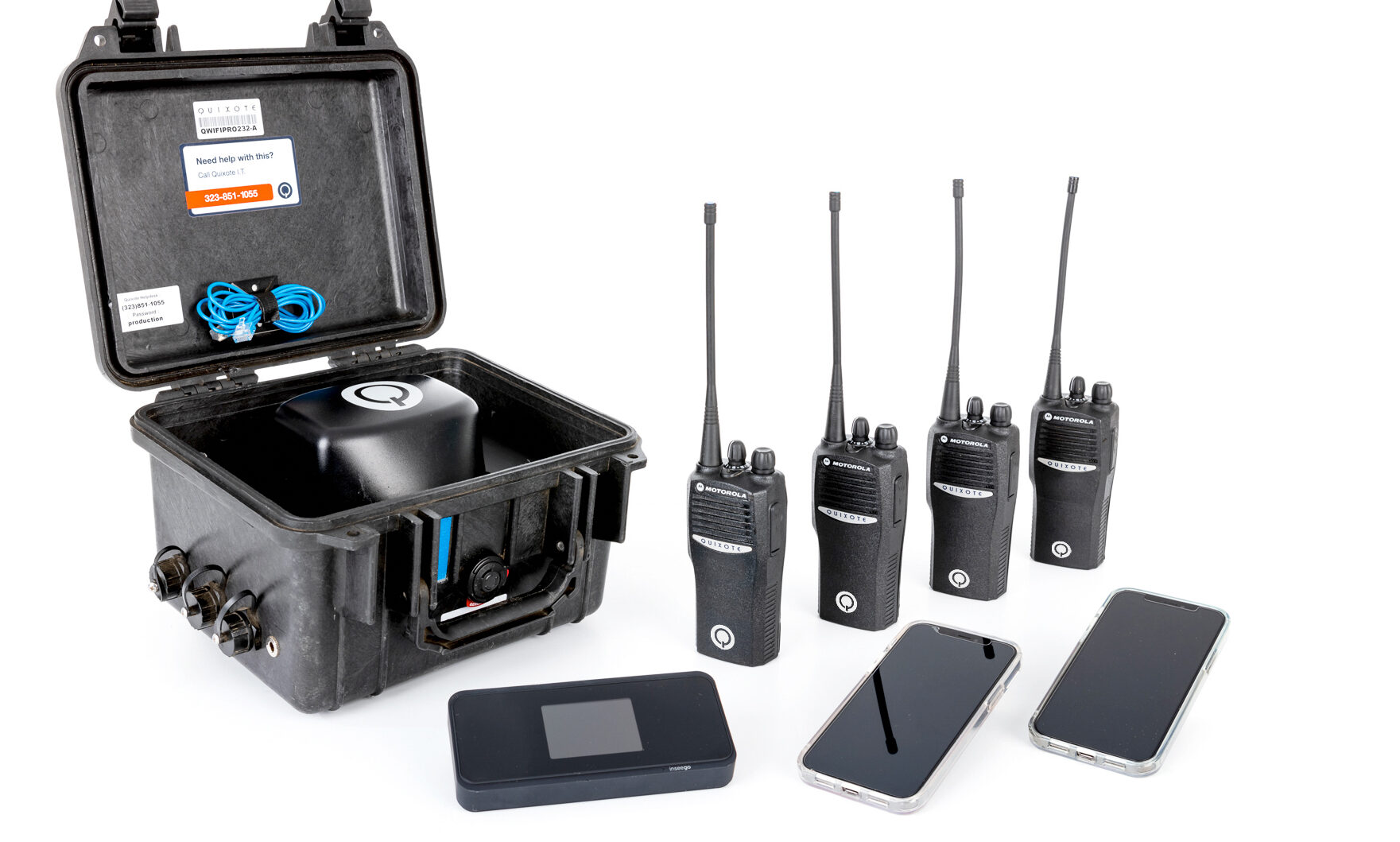 Keeping you connected from Coast to Coast. Complete communication solutions including 2-way radios & wifi hotspot rentals for events, productions & more
---
Atlanta Production Supplies
---
Hours
Sunday

Closed

Monday

8:30 AM – 5:30 PM

Tuesday

8:30 AM – 5:30 PM

Wednesday

8:30 AM – 5:30 PM

Thursday

8:30 AM – 5:30 PM

Friday

8:30 AM – 5:30 PM

Saturday

Closed