Talent Verde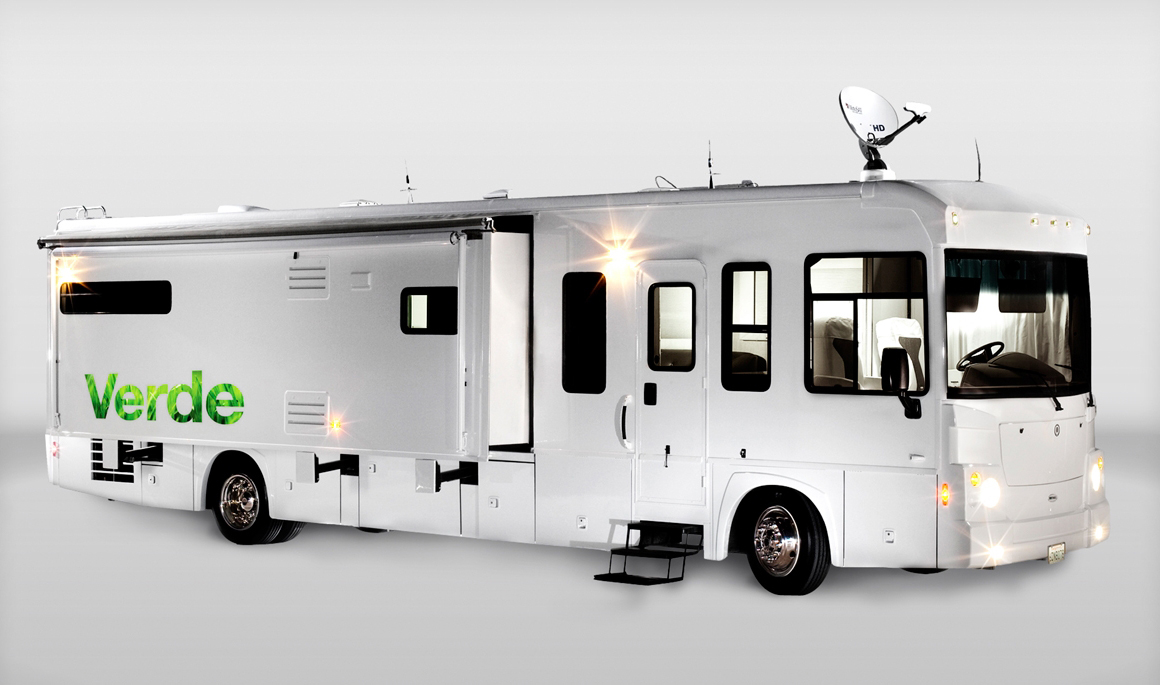 This vehicle is available in both Los Angeles & New York
For your most discerning clients. Ride in style and go green.
Q Verde runs on bio-diesel, a clean-burning, renewable alternative fuel that provides increased energy independence while protecting the environment.
Schematic
Specs
• Height – 13.2′
• Length – 39.8′
• Width – 8.6′
• Opened – 13.2′
Features
• Central Heat & Air
• Wireless HD Multi-Media Lounge
• Wireless All-In-One Copier
• iTunes-Compatible Speakers
• Mobile Hi-Speed Internet
• DirecTV
• Double Make-Up Station w/ Basin
• Skylight
• Salon Chair
• Hi-End Wardrobe
• Espresso Machine
• Refrigerator/Freezer
Lounge
Makeup & Wardrobe Room
VERDE MEANS GREEN. BUT JUST HOW GREEN IS IT?
At Quixote, Verde matters to us greatly. We believe in the simple notion that as citizens of this planet we have absolutely no choice but to recycle, reuse and re-purpose.
It's a very small gesture that if repeated the world over, will enable us to preserve the awesome ground beneath us.
Quixote's Verde Keeps Our Planet & Your Production Greener With:
• Fueled with biodiesel; brewed (off-site) from a mix of agricultural oils & recycled cooking oils.
• Breathe easier, literally. The paint is low VOC (volatile organic compound). Turns out, not everything organic is good for you.
• Carpeting is recycled & also low VOC. (10% post-consumer, 12% pre-consumer & 68% from the future.)
• Bathroom walls are made of 100% recycled aluminum, derived from transformer coils, industrial scrap, combustion-motor pistons & a lot of our old beer cans.
• Tabletops are constructed of 100% post-industrial scrap. They are very low VOC & LEED-certified, which we hear is totally impressive.
• All construction is done with non-formaldehyde plywood. (Formaldehyde is not good. Think junior high biology class. Frog. Scalpel. Enough said.)
• The curtains are made from ultra-renewable bamboo and the pillows of 100% Eco-Poly fabric which emit no airborne toxins. Go Ahead. Test them with a breathalyzer.
• Our sofas are filled with natural latex foam, mother nature's fire retardant – which lowers the amount of highly carcinogenic PDBE. It also lasts waaaay longer, thereby avoiding landfills & man-caves.
• LED lighting throughout. LED advantages include lower energy consumption, longer lifetime, improved physical robustness, smaller size, faster switching and the ability to tout "LED lighting throughout."