Star Verde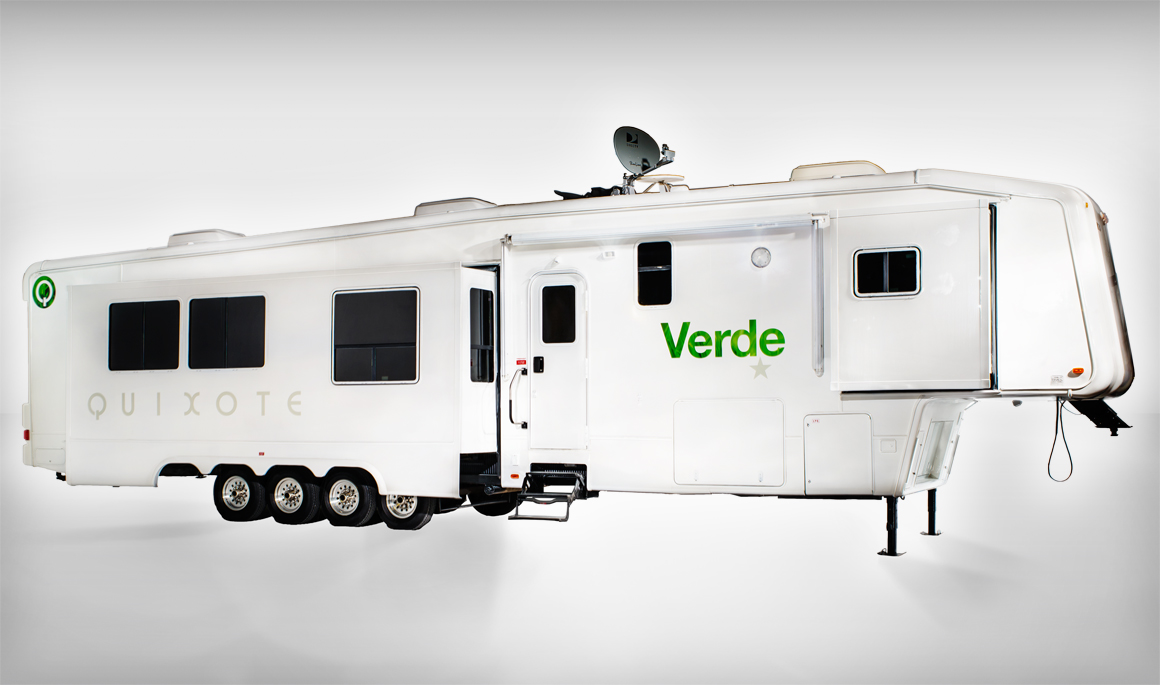 The New Standard in Eco-Friendly Celebrity Trailers. For your most discerning clients. Ride in style and go green.
Style 1
Style 2
Schematic
Specs
Length – 47′
Height – 13.5′
Width – 9′
Width Opened – 14′
Features
• 4 pop-outs
• 10kw Generator
• Separate HD Satellite System
• UHD 4k 65" LED TV
• Bose Sound System
• Apple TV
• Custom One Touch Remote
• 40" HDTV Entertainment System in Bedroom and Make-up Areas
• Hair Sink
• Rear Has Separate Entry & Can Be Used As A Make-up Station
• Microwave, Refrigerator, Counter Space & Storage
• Bedroom Is Extra Spacious with a Queen Murphy Bed, Sofa & Plenty of Storage
• Entry Door Security Camera
Style 1 Lounge
Style 1 Makeup & Wardrobe Room
Style 1 Bedroom
VERDE MEANS GREEN. BUT JUST HOW GREEN IS IT?
At Quixote, Verde matters to us greatly. We believe in the simple notion that as citizens of this planet we have absolutely no choice but to recycle, reuse and re-purpose.
It's a very small gesture that if repeated the world over, will enable us to preserve the awesome ground beneath us.
Quixote's Verde Keeps Our Planet & Your Production Greener With:
• Our trailers are built using water based adhesives and paints that are low in VOC and California compliant
• Quietest generator in class
• Meets Tier 3 evaporative emissions of the CA Air Resources Board
• Meets Phase 3 evaporative emissions of the EPA
• Lighting and electrical, we use both 12volt low voltage and some lighting throughout the trailers
• We use all Energy Star appliances
• Low VOC (volatile organic compound) paint (Turns out, not everything organic is good for you)
• Table tops are constructed of 100% post-industrial scrap. Very low VOC & LEED certified
• Bamboo flooring
• Lighter weight less fuel to tow
• Smaller windows, less heating and cooling loss
• Power saver economical roof Air Conditioning
• All construction is done with non-formaldehyde plywood
• Sofas filled with natural latex foam. – lowers amount of highly carcinogenic PDBE
• LED lighting. Advantages include low energy consumption, long life, smaller size, & faster switching
• Use of aluminum or steel allows us to build a longer life trailer & not have to send as much to the landfill
• Multiple types of insulation reduce the amount of time the systems need to work
• Economical Power Saver air conditioners
• Durable laminates are used to ensure long life and less waste
• Waste is kept to a minimum during the manufacturing process thus reducing environmental impact